Artist's Statement
My pieces are essentially related to vessel making and containment. They are also self-portraits or intimate portrayals of personalities I am contemplating and care deeply about.
I find myself exploring relationships, embodiment and containment, important aspects of the personal.
Often pieces are deliberately created to portray a veiling or a disguising. Many layers are added. Just as our personalities are multi-dimensional, and just as we need to peel away layers to discover the true essence of someone or something, these pieces reflect complexity.
However, while peeling away layers can be a wonderful process of discovery, in reality these layers also serve as protection, in an attempt to be allusive or to hide. They cannot be peeled away very easily.
I tend to work in series that I return to: Cocoons; Thorns and Quills (responses to disturbing world events); Vestures (veiling and my interest in women and events of the middle east); Zip (family, embodiment and women's roles); Nature (our positive or negative imprint) and Spirituality.
I also explore alternative materials. Some are ancient, some contemporary. Some have served to create clothing and containers in ways that are totally respectful of nature and our world. These alternative materials can be strong yet fragile in appearance. They are ethereal and transparent, a contrast to the veiling and opaqueness of earlier materials.
All pieces continue to explore the notions of vessel, embodiment and containment.
Exhibition Resume
GALLERIES
2007 – 2010 Cascade Art Gallery, Grand Rapids, MI
2006 – 2008 "106," Grand Rapids, MI
2002 – 2005 Gallery Arcadia, Grand Rapids, MI
2000 J. Ardizonne Gallery, Auburn, WA
2000 Montana Fur Company, Martin City, MT
1999 Gallery North, Edmonds, WA
1999 Little House on the Lake, Harrison Hot Springs, BC
1996 Smith & Company Gallery, Everett, WA
1994 – 1999 Arts Council of Snohomish County, Everett, WA
1997 Sandpiper Gallery - Frances Anderson Center, Edmonds, WA
COLLECTIONS
Sandra Bowden, New York
Carla Wall, Seattle
Arrowmont School of Arts and Crafts, Tennessee
Brenda Bennett, Seattle
JURIED EXHIBITIONS
International Traveling Exhibition 2008-12
Charis: boundary crossings
Art, Religion & Contextualization
Nagel Institute
www.calvin.edu/go/charis

Calvin College MI
Taylor University IN
Columbia Theological Seminary, Decatur, GA
Philadelphia Biblical University, PA
Dadian Gallery, Wesleyan Theological Seminary, WA DC
Dordt College, IA
Fuller Theological Seminary, CA
Invitational 2011
Arts Council of Greater Grand Rapids
GR MI
www.artsggr.org

Faculty Exhibition 2011
Calvin College
GR MI
www.calvin.edu
Invitational 2010
Faith as Art: Art as Faith
Brandenburg Gallery, Olivet Nazarene IL
Brandenburggallery.blogspot.com
Invitational 2010
Configuration
ArtPrize
GR MI
www.artprize.org
Sabbatical Exhibition 2010
Sanctuary
Calvin College, GR MI
(Grand Rapids Press, Jan 2010)
www.calvin.edu
Solo Exhibition 2010
Artist-In-Residency
Forest Hills Fine Arts Center and Public Schools
GR MI
www.fhfineartscenter.com
Invitational Exhibition 2010
Conspiring With Nature
Gallery 930 KY
www.the930.org
ArtPrize 2009
Grand Rapids, MI
inhand2 2009
3 person invitational
Design Quest, GR MI
www.designquest.biz
Solo 2009
Association for the Blind and Visually Impaired
GR MI
3 person exhibition 2009
in hand
Calvin College Center Art Gallery
Solo Exhibition 2008
Grand Rapids Christian High
Beyond Basketry 08 exhibition & traveling exhibition 2008 – 09
The Dairy Barn Arts Center OH
Juror's Award
All Things Considered National Exhibition and traveling exhibition 2008 – 09
National Basketry Association (NBA)
The Body of Christ 2007/2008
Christians in the Visual Arts (CIVA)
Dadian Gallery, WA DC
www.civa.org
The Fine Art Center 2007
Bascom-Louise Gallery Highlands, NC
David Lubbers/Jo-Ann Van Reeuwyk
2-person exhibition 2007
Cascade Art Gallery, Grand Rapids, MI
Art Faculty Exhibitions 2002, 2005, 2007, 2009
Calvin College, Grand Rapids, MI
Arts Council of Grand Rapids 2002, 2005, 2007
Celebration
Juried Exhibition, Grand Rapids, MI
Visions X 2005, 2007
The Cathedral Foundation, Inc
Covington, KY
Inspirations 2003 2006 2008
Grand Rapids, MI
Solo Exhibition 2005
Gifts of Art
University of Michigan Medical Center
Washington Art Education Association 2005
Seattle, WA
Annual Presentation – Women's Caucus
National Art Education Association 2003,2004, 2005
Franciscan Life Center 2004
Art Exhibition
Lowell, MI
Lowell Area Arts Council 2004
18th Annual Exhibition – West Michigan
Artes Sagrados 1997, 2004
Concordia University at Austin
Austin, TX
Sacred Art Show 1997, 1998, 2000, 2001
Golden Isles Arts & Humanities Association
Brunswick, GA
National Christian Fine Arts Exhibit 1994, 1995, 1996, 2001
San Juan College
Farmington, NM
(Juror's Choice Award: 1995)
Gifts of the Spirit 1999, 2000, 2001
First Presbyterian Church, Portland, OR
Puyallup State Fair 2000
Puyallup WA
(2nd place)
Edmonds Art Festival '96, '97, '98, '00
Juried Exhibition
Edmonds, WA
Absolutely Beads '97, '00
Beads & Beyond
Bellevue WA
A Time to Sew '97-'00
CIVA Traveling Exhibition
Minneapolis MN
Works of Faith '99, '00
First Presbyterian Church
Portland OR
Art of Basketry '00
Arts Council of Snohomish
Everett WA
Response to the Holy '00
Fourth Presbyterian Church
Chicago IL
Festival of the Arts '96, '97, '98, '99
Sophie Wrenchley Gallery
Seattle WA
Arts of the Terrace '96, '97, '98, '99
Mountlake Terrace, WA
(Honorable Mention: 1996 and 1999)
(Festival Judge: 2000)
Remembering, Responding, Renewing '99
Visions Gallery Invitational
Albany NY
The Art of Paper '98, '99
West Coast Paper Company
Kent WA
The Idea of the Sacred '99
Center for the Arts & Religion
Washington DC
The Uncommon Basket '99
ArtsWest Gallery
West Seattle, WA
Calvin College Alumni Juried Exhibition '94, '98
Grand Rapids, MI
(Third Prize: 1994)
Three Dimensions '98
Gallery North
Edmonds, WA
Hidden Concealed and Revealed '97
Jewish Community Center of Pittsburgh
Pittsburgh PA
Vital Intersections '97
McGill University
Montreal Quebec
Exhibition
Shemer Art Center & Museum '97
Phoenix AZ
"Things to Think On" Exhibition '97
Merrick Free Art Gallery
New Brighton, PA
(Curator's Choice Award)
Bellevue Art Museum '95
Group Exhibition
Bellevue, WA
COMMISSIONS
Lisa DeBoer – Worship Institute '07
Psalm 64
Calvin College, Grand Rapids, MI '05
CURATORIAL
In The Grand Scheme: California Fibers at Convergence '06
Calvin College Center Art Gallery, Grand Rapids, MI

Space and Spirit '05
Calvin College Center Art Gallery, Grand Rapids, MI
BOOK PROJECT – '05-'08
Multi-Media Collaboration with 12 national artists
PUBLICATIONS
Image Journal 2010
CIVA SEEN 2010
Mosaic 2010
Stoneworks International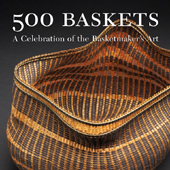 500 Baskets 2006
Lark Books
Sterling Publishing
The Calvin Spark
Winter 2006
Dialogue
Sept 2005
Dec 2006
March 2007
EDUCATION
Master's of Art in Art Education
Simon Fraser University, Canada
1989
B.A. in Education
Calvin College, Michigan
1983
EXTENDED WORKSHOPS WITH: Lissa Hunter, John Garrett, Jerry Bleem, Jill Nordfors Clark, Marilyn Moore, Jan Hopkins, Dorothy Gill Barnes, Mary Hettmansperger, Polly Adams Sutton, Catherine Nash, Jo Stealey